In today's real estate world, every agent and broker has to have an effective online strategy, with online sites like Zillow, Trulia and others making it easier for home buyers to at least begin their home search process before taking in-person tours.
The next natural step is for real estate agents to want to get in front of these home buyers to build a client base.
Unless you have some idea of what you are doing, you may not know if your web marketing is working for you. On top of that, Google and other search engines with their opaque algorithms can be intimidating beasts.
If the world of meta-tags, keywords and content marketing has you confused, you're not alone. Google, Bing and others guard their algorithms like the gold in Fort Knox. There's good reason for this, too. If someone were to figure out exactly how search engines worked and fool them, high quality content might be pushed down in favor of information that wasn't as good because the person who wrote it knew how to game the system.
While there's no search engine silver bullet, there are some things about what search engines are looking for to find the high quality content their users covet that are key.
First, make sure your information is accurate.
If you've ever searched online for a restaurant, florist or any number of other businesses, you'll probably notice they have photos, their hours, reviews and even notes on when they're busy. It comes up in an info box to the side of search results and looks a lot like this.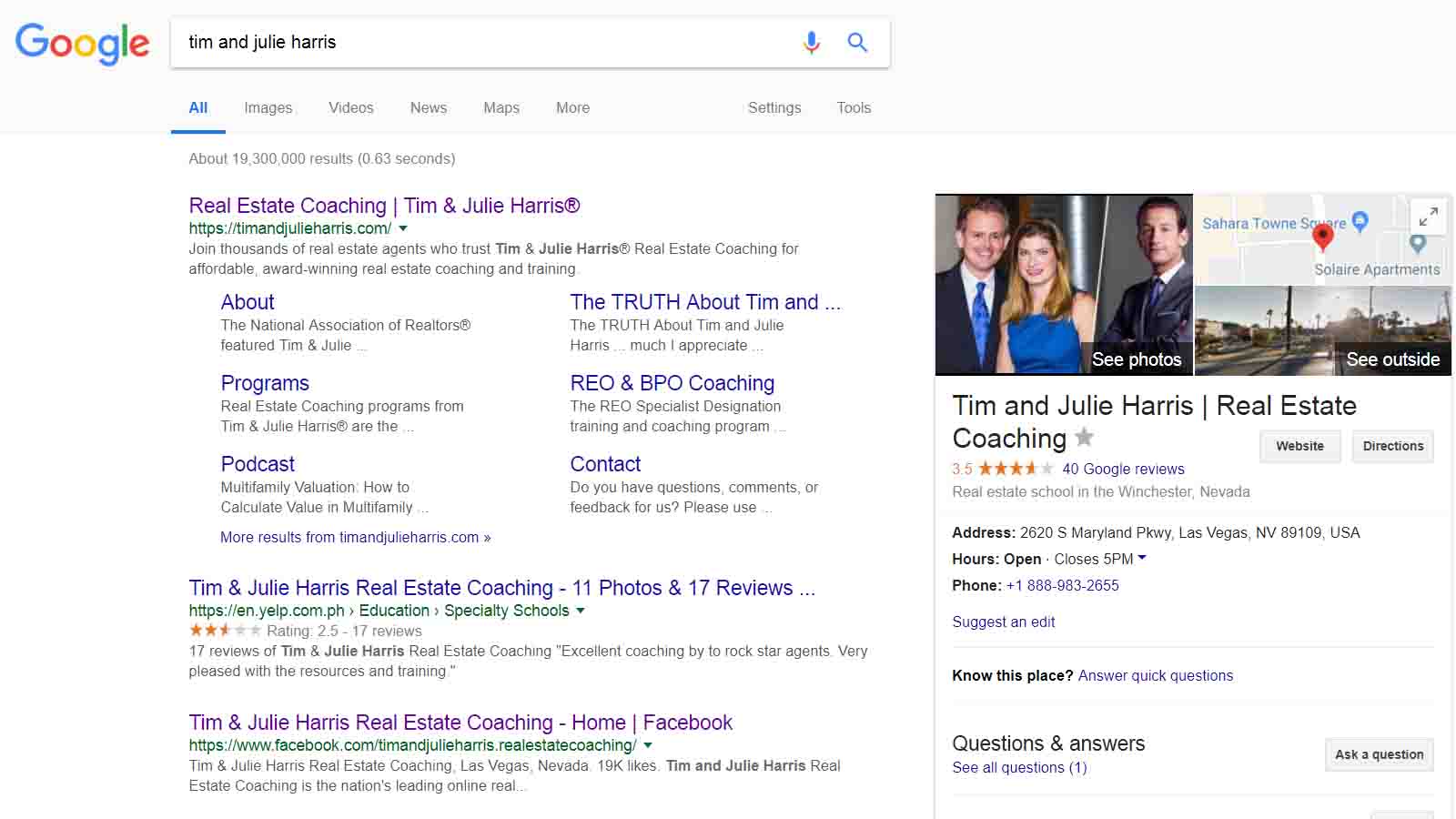 This is really nice and draws a ton of attention to your business if you can make it stand out with pictures of yourself, the exterior and possibly interior of your offices. There would also be a map to your location. So how do you get one of these?
You can go to Google My Business in order to claim your location and start filling out relevant details about your business. Now, when someone searches for that location on Google, they'll get this handy search box that's going to show you putting your best foot forward.
You should follow similar steps to claim your business on Yelp and the Yellow Pages.
Focus on using location-specific webpages.
People looking for houses may only do so once a decade. You're out there pounding the pavement every day. With that in mind, if you cover several cities across a metro or county area, you should have specific webpages for each major area you cover on your site.
You also might choose to keep separate localized webpages or even dedicated sites. That way, if someone is searching for homes in those specific areas, your site comes up.
Next, do some experimenting.
You can play around with where the calls to action are on your pages. If it's just a link, does it work best at the top or bottom of the page? If it's button copy, does it work best when the button is orange or blue? You can spend a lot of time on this stuff and you shouldn't go too crazy, but if you're having trouble getting people to convert after viewing your page, you might change up some things.
Keywords are a primary part of any strategy for rising up the rankings. The important thing to remember is if you're writing on something like homes in Akron, it's important to have the phrase "homes in Akron" near the top of the page in the first few paragraphs.
Moreover, you also will want to cover other subjects and keywords that potential clients might be searching for. How do you find those?
In this case, related searches are your friend. When you type in one inquiry into a search engine, the engine will auto populate other entries. This can be immensely useful in generating related topics for your pages. You can also find related searches at the bottom of the search results page.
Avoid keyword stuffing, which is placing the keyword in every sentence or even every paragraph doesn't necessarily help you and may actually hurt you because Google doesn't want people gaming the system. They can penalize you in search.
With more and more web browsing done on phones, you want to have mobile friendly sites. You site must be mobile friendly and fast because users can be impatient. If your page doesn't load in the time the user expects it to, they tend to move on and there's no sense letting them go to your competitors.
What can you do to speed up page loading? Having your tech person or a webpage designer working on it may help. In general, make sure you're loading versions of images that are optimized for digital. Without getting too technical, screen resolutions aren't as high as what would be required for print. Therefore, you can get away with smaller file sizes, which will help speed up load times.
You also can boost your site with regular blog posts.
Google measures your site on regularly updated with high-quality content. One way you can do that is by writing blog posts on home buying and selling topics.
You can do a few things. Talk up the virtues of the areas you serve. It makes you look like you really know the area if you can talk about how good that Bruce Springsteen tribute band was during Music in the Park or speak highly of the pizza at the best local Italian place.
The best thing about blog posts is that it's a great way to get other sites to link to you and this is one of the best ways to get your search engine rank to increase quickly. One key indicator for Google is whether other sites link to you because it's a sign that you have good content they're interested in sharing with their group. You're considered influential in your field.
With a little research on back links and some work, you can make it happen. Download the free MozBar extension for Google Chrome and Mozilla Firefox, and creating a free account.
Next, do a Google search on a topic you will write about, such as "buying a home in the spring."
Once you have the extension, you'll get a toolbar under each Google search results. Ideally, it would be good to get a link from any site with a domain authority (labeled DA in the extension) above 30.
Claim Your FREE Real Estate Treasure Map!